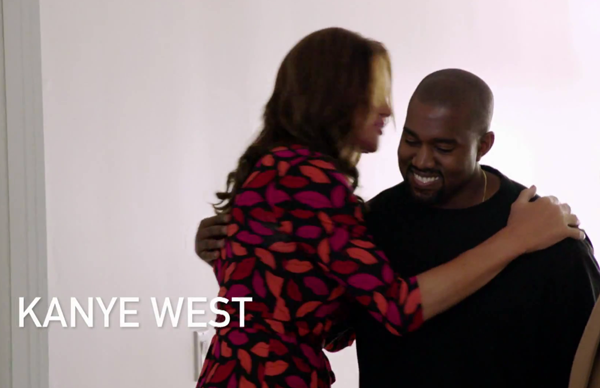 Kanye West's introduction to Caitlyn Jenner was caught on camera for the premiere episode of "I Am Cait."
Last night, Caitlyn Jenner's new reality show "I Am Cait" debuted on E! and one very familiar face appeared on the first episode.
Cameras were rolling when Kanye West met Caitlyn Jenner for the very first time. Upon arriving, Caitlyn welcomed Yeezy, who all smiles, with open arms as they hugged.
Yeezy and Kim joined Caitlyn, her mother and her sister where they gathered in the kitchen to chop it up. Kanye then praised Caitlyn for her bravery, calling it one of the "strongest things that have happened in our existence as human beings." Oh.
SIDEBAR - Kanye & Kim celebrated Caitlyn's first Father's Day this year.
Caitlyn praised Kanye for his open mindedness and helping Kim feel comfortable with her transition. She said, "Kanye and I have never really been very close, but I love his open-mindedness and I love how he has helped Kim come to grips with what's going on."
Towards the end of their conversation, Caitlyn's sister admires Yeezy's untied adidas sneakers, where Ye was happy to explain why he rocks them untied.