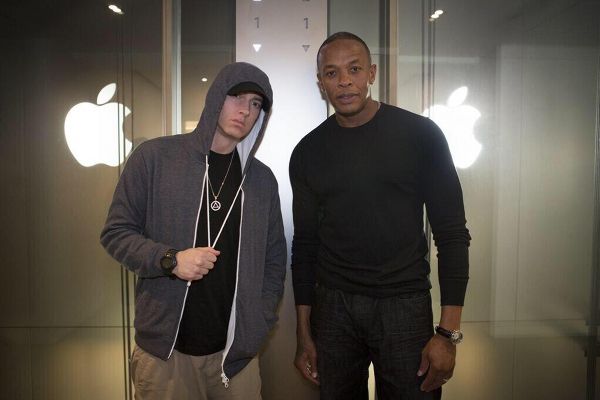 "Beats By Dre" founders
Dr. Dre
and
Jimmy Iovine
are in talks with Apple to sell the headphones giant for nearly $3.2 billion dollars! And Dre even made an informal announcement...before possibly sealing the deal at the Apple office this morning. More inside....
You're very likely looking at Hip Hop's FIRST billionaire! Dr. Dre and
Eminem
were spotted inside the APPLE offices in San Francisco this AM (above), so it looks like the deal is a GO. And super-startup investor "AK" snapped the pic above and revealed that the fellas completed the sale this morning.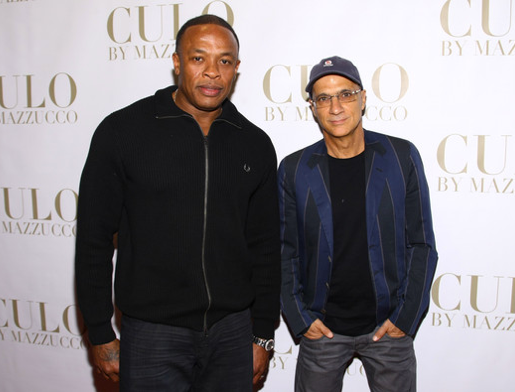 Yesterday, a report in Financial Times (also confirmed by Forbes, CNBC and more) has placed hip-hop pioneer Dr. Dre and music industry titan Jimmy Iovine in the Billionaire's Circle. Industry insiders reported that Apple is close to (if not already completed) acquiring Beats By Dre,
the headphone and music streaming operator
Dre and Jimmy founded. And the going rate...is more than $3.2 billion dollars. That's billion with a B.
Though there's always a chance that talks between the two companies could break down, a deal is expected as soon as next week. And this will be the largest acquisition in Apple's history. For now,
The Chronic
rapper is ranked second on
Forbes' list of the wealthiest hip-hop artists
of 2014 with an estimated wealth of $550 million, but the expected deal (even with him owning 25% of Beats) would make Dr. Dre hip hop's first billionaire!
UPDATE
: After taxes, according to FORBES, Dr. Dre will likely be around the $800 million mark, technically. But this deal is likely setting him up to fully reach the billion dollar status in a few years.