Family feud!
Oprah
's stepmother is spilling some family tea on how Ms. Winfrey allegedly kicked her out of her home after 14 years, leaving her flat out homeless. Read the shocking allegations inside…
Around this time we start spring-cleaning and it seems Oprah is cleaning house. She is being accused of leaving her stepmother homeless!
Oprah Winfrey's stepmother is publicly speaking out for the very first time on a family feud she has had with the media queen. And according to her, Lady O played a major part in her failed marriage to Oprah's dad
Vernon Winfrey
.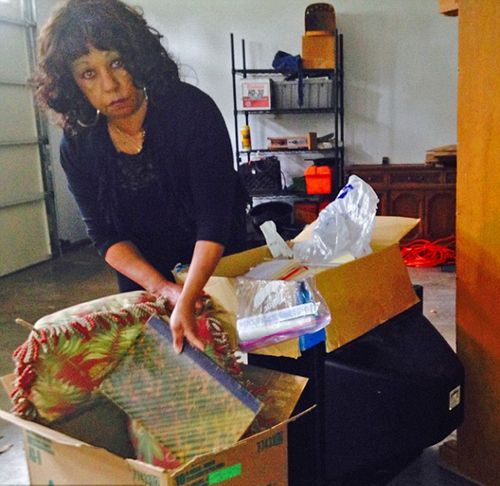 In an explosive candid interview with the
Daily Mail
, 66-year-old
Barbara Winfrey
(a former vice principal) reveals she's allegedly being kicked out of the home she shared with her husband for 14 years in the wake of their divorce.
Barbara was served with an eviction notice earlier this month and has until May 29th to leave the $1.4 million Nashville home.
"I have lost everything. It's not just a house, this is my home. All my memories are here," said Barbara.
"I'm trying to keep it together but there are some days I just don't understand how I could have made her so angry that she would kick me out on the street and think nothing about it. But that's Oprah – she's judge and jury."
Oprah bought a home in Nashville back in 2000 for her dad and her stepmother as a wedding gift. Barb claims once she and her now ex-husband decided to split, Vernon convinced Oprah to take back the home she had gifted them.
"I know people have read about this and thought, "Who does she think she is? Why should she get a million dollar home? But can you see it's not about that? It's about everything that went before. Look at how she has treated me. I laid my head next to her father for 14 years and she never thought me worthy of talking to. "
Barbara also went on to say that Oprah isn't the kind, caring person she portrays to be on television.
"Everything comes with stipulations but she doesn't tell you that and she doesn't tell you what they are."
"Some people can have money and be mentally rich – secure in what they have I guess. But others, how can I put it…some people you can't take the ghetto out of. That's Oprah, it's who she is and where she's from. She had money, everybody was going to know it and see it. But she had to be in control."

And she continued with her attacks on Lady O (brace yourselves):
'She was a horrible decorator. Money cannot buy you taste. She would put plaid with stripes and all sorts. In [her home in] Indiana she must have had 200 dolls, some of them looked like they could have gone back to the slave days, lined up on long benches in the hallway. It was creepy.'
....
And when she and Vernon arrived at Oprah's Chicago condo on one occasion she recalled, 'Oprah got on the intercom and announced, "Negroes in the house. Negroes in the house." She thought it was funny. I thought it was insulting. I'm older than her. I know what it means. She was reminding us of our low class.'
.....
'Her brand is that she's a nice, caring, generous, giving person. That's not how it is. She's controlling – it's all about control'.
Barbara also made claims that Oprah and Stedman are NOT together because they're madly in love but rather for convenience, money and a slew of shared secrets. She described Gayle and Oprah's relationship as "bizarre" and "unhealthy" and believes their friendship is the reason neither of them are married.